Cover Art for the parisian magazine Cerise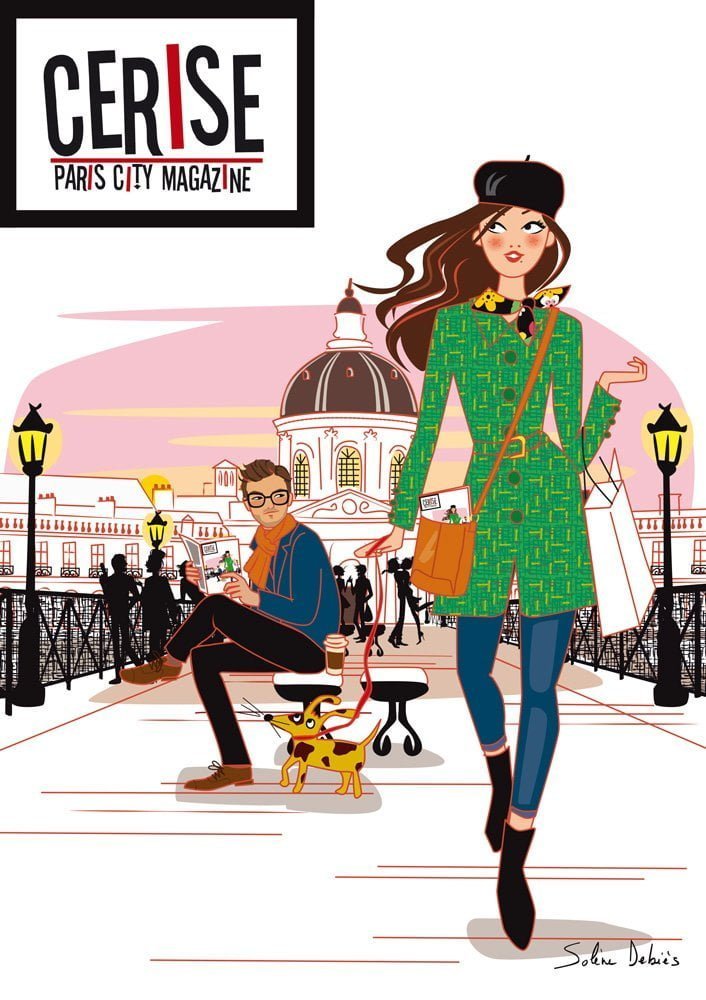 Paris and the "Pont des Arts" as the cover illustration
For this third Christmas magazine cover of Cerise i spoke with Carole Fernandez, the chief editor, to find what new mythical place in Paris could be used as a backdrop for the magazine cover.
For Cerise, I had already illustrated the Pantheon, the gardens of Luxembourg, the Haussmann boulevard, the Latin neighbourhood and some other iconic places... We needed an identifiable place again, one that evoked the magical dreams of Paris: "The Pont des Arts" bridge, also known as "the lovers' bridge" was just perfect! A dream setting to draw a meeting scene between a handsome young man and a pretty Parisian woman!
Lovers bridge
I drew a young woman walking head on, elegant in her green coat. She seems to have spotted the benevolent look of a young man who's sitting quietly on a bench, camouflaging himself clumsily behind his Cerise magazine. The mutual observation seems discreet, the emotion of these first looks seems totally under control. But, because there is a but, this subtle game of approach and seduction will be disturbed by the third protagonist of the illustrated scene: the little dog!
A key character: the little dog!
He is neither handsome, nor tall, nor sturdy, but he has good instincts, and that's why we recognize a good little dog. He loves his mistress in a way only him and all small dogs can, and so he plucks up enough courage and tries a frontal approach with the young man, who, he felt as a little dog, could make his owner very happy. Bingo! The future belongs to the daring (and not to the early bird who catches the worm, because this little dog gets up particularly late). The leash is going to stretch, their eyes will cross, the first words will be exchanged, in the pure and cold air of one evening in December, at the time when the light falls, on the Pont des Arts bridge ....
Are who with me? How do you like it?