The artist, the City of Lights, and the fashion world
From the Montmartre hill to the Eiffel Tower, Paris itself, its inhabitants, its Parisian kids, its Hausmannian boulevards, will always make Paris an inexhaustible source of inspiration for visual artists and fashion designers.


Graphic art developed in Paris more than 2 centuries ago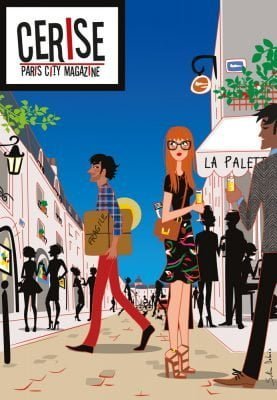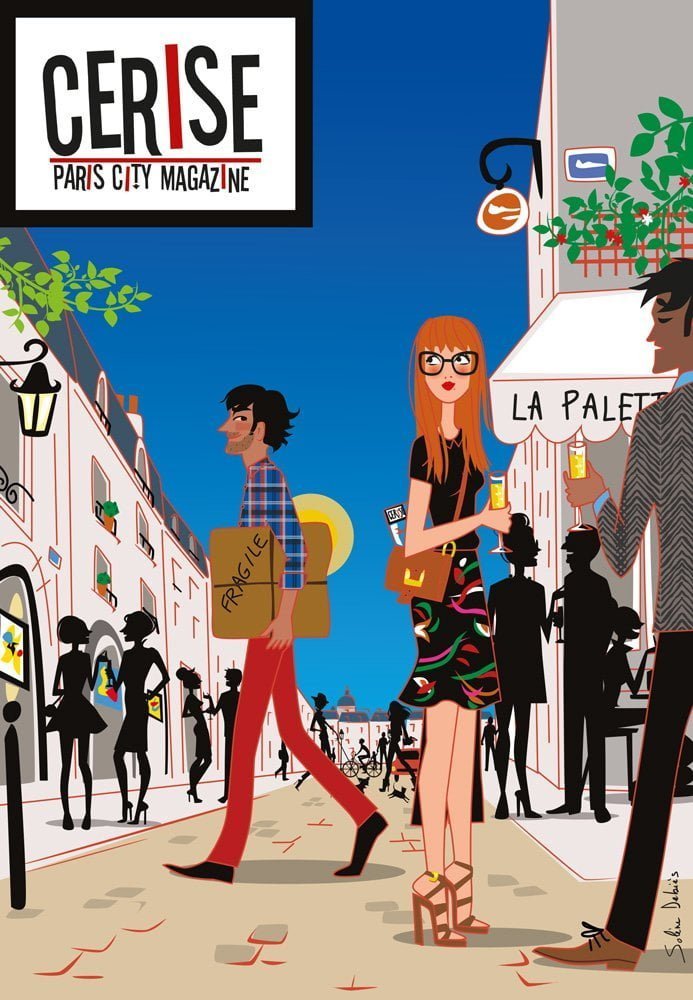 The first caricaturists, poster designers or lithographers from Paris, such as Gustave Doré, Grandville, Henri de Toulouse-Lautrec with his paintings of Montmartre, Charles Gesmar with Mistinguett and the Moulin Rouge, paved the way for a type of figurative art which is light: that is the job of the poster artist. Can we classify illustration in the category of "Minor Arts", in comparison with painting, its big sister of "Major Arts"? Is the illustrator of a painting what the cabaret singer is to Grande Musique? Why not, this idea suits me perfectly! I think that poster artists can claim the lightness of their Art. Is it light art for light souls?
But why is this Art that is so light so attracted to Paris? If the Louvre or the Cathedral make us think of a certain solemnity, you can easily see that the silhouette of the streets of the Butte aux Cailles or the Rue des Martyrs is a bit more supple and dodgy than the imposing skylines of Manhattan and its avenues! Take a look at the Eiffel Tower for example: do you not think it looks like it has a pair of fishnet stockings twirling in the wind? To draw Paris and Parisians requires lightness, but in capital letters. This is why thousands of years after its creation, Lutetia became both a muse and capital of poster artists.
The Poster Artist in Paris fashion

This "je ne ne sais-quoi" also attracted another form of art which is also a source of inspiration: Paris has become one of the biggest capitals in fashion. Fashion loves illustration and drawing, which makes it look it good. A love story has long existed between designers, Paris and fashion. Every year, during fashion week, in the darkness of the parades, far from flashes, rhinestones and spangles, late into the night under the garrets of their workshops, small nimble hands draw on large white bare paper, tablet screens or computers. They are there, sketching proud silhouettes of women hopping on the catwalk, wielding colours as if they were love messages for the dresses, sketching creators and the models that make their hearts vibrate. They draw, sketch, retouch, colorize, rattle, throw, and re-draw, re-sketch, … like an incessant ballet, a passionate tango between lovers who seek themselves… How many are, Anonymous, in love, often without a penny but have eyes full of hope? Can we speak of an army of the shadow that seeks light for curves, patterns, or the cut of a garment? We will never know, because "The City of Love" among the maze of its little dark and cocky streets keeps its secrets to itself. Paris knows how to protect its artists and their light art from the heaviness of the world. That is also why we love it.
"Paname" is conducive to creation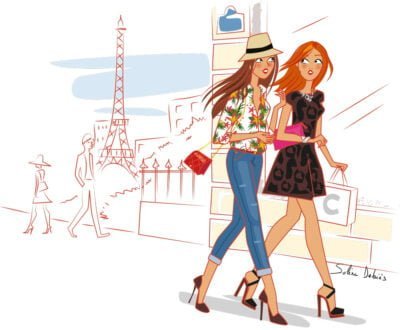 At each street corner you can observe a new style that calls for a design: in Bastille a Parisian on her bike exhibits her style both chic and very natural. On Avenue Montaigne a couple of tourists rake the boutiques of luxury brands. The Gardens of Luxembourg hold a horde of stylists on the grass enjoying a unique decor and an attentive public. I was able to illustrate many of these magical places of the City of Light in the cover design for the magazine Cerise: Saint Germain des Prés and its famous newspaper vendor "Ali". The showcases of the "Grands Magasins" at Christmas, a scene of people enjoying a drink in front of the brasserie in the Latin neighbourhood called "La Palette", rue de Seine, you can see 2 girlfriends sunbathing in the gardens of Luxembourg, the facade and the entrance of a famous Parisian Palace, and 2 young Parisians strolling in front of the Pantheon. Dream sets, Parisians and world-wide characters make the perfect "mix" to inspire image creators from around the world!
The work of a freelance illustrator in Paris
So Paris is the ideal place to draw inspiration from the world and from people to create beautiful images. But how do you practice the profession of a Poster Artist in Paris, and if possible as a "Freelance"designer?
A good stroke of a pencil and the will of graphite

People often ask me this question and I will certainly make people disappointed: there is no miracle recipe. The first thing you need to know, and this is not some hyped up story, is that you need to know a minimum how to draw. When you want to become an illustrator, you usually do not have a choice: When you were small you would hold a pencil and scribble little characters on bits of paper that were floating around, on the ends of tablecloths, in the margins of notebooks or even better on your girlfriend's arms. You didn't want to do anything else. Everyone dreams about making a living from their passion for illustrating. That's the basis, because you're going to need a lot of motivation and perseverance. Starting off with a good "pencil stroke" will prove useful. Ideally it is better to acquire some techniques to tame this pencil stroke by following training in artistic crafts.
Artistic training is a plus!
There are many training programs from BTS Graphic Design, DNA National Diploma of Art option design, through to the National Diploma of Higher Arts (ENSAD), as well as a multitude of private art schools. As i wanted to become a graphic artist, I personally chose the Ecole Pivaut in Nantes (superior private technique of applied arts and narrative drawing) which offered general training of applied arts over 3 years with an option for graphic art. You improve our drawing skills but you also open yourselves to other forms of artistic expression, and you learn the basics of a graphic designer: meeting with the client, translating a text, (Pen, felt, watercolour, ink of China, etc.), the diversity of the print supports (poster, book, magazine, brochure…), multimedia (website, video games, e-learning, animation…) or audio-visual (video, film…), and we develop our artistic sense.
Going solo as a visual artist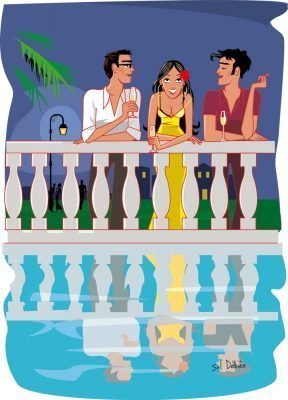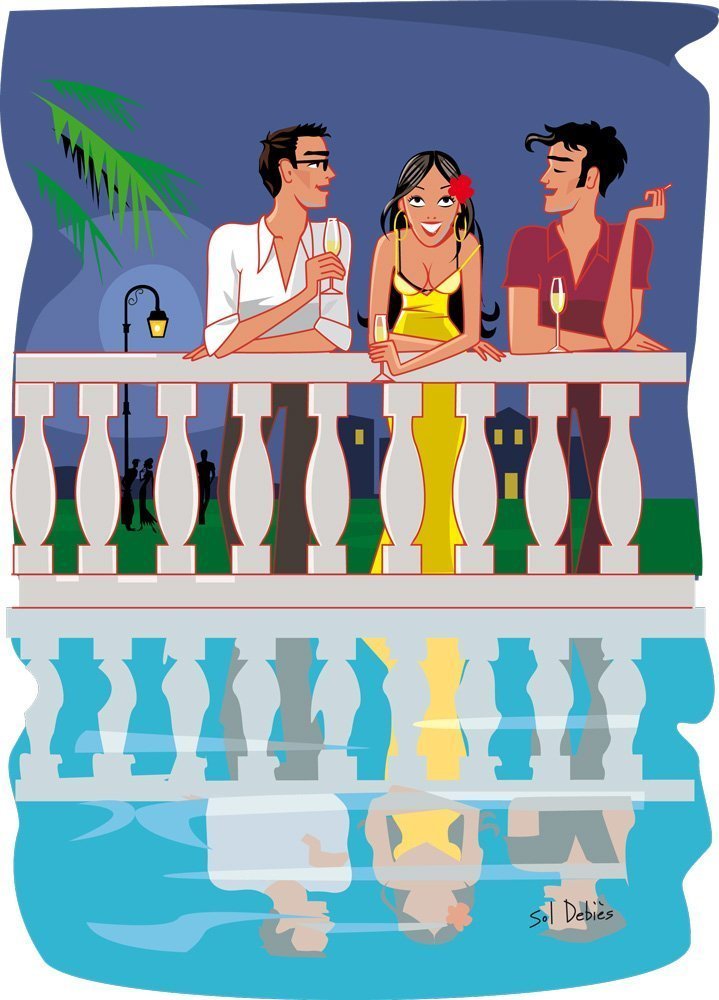 Once you're trained, you've pretty much understood what the job is and ideally you've done some internships along the way (I personally did 2 in an advertising agency). The next step is to find customers … As we say in my Native Britany, customers don't grow on trees. You must therefore make your work known by others. Your work should preferably present a well-defined style in order to be identified by the different sectors of illustration users: advertising, press and publishing. When I started, I went to visit the art directors and editors with my book and several dozens of my printed illustrations. Today, knowing how to design, create and reference a website with all your portfolios is a huge advantage which allows you to be seen and identified by a wide audience. When you get your first orders in, the most important thing to do is to go and celebrate at a restaurant. The next day, you must not forget that you are going to need a status to exercise your trade and especially to be able to charge, which is necessary to eat and therefore to survive. For the designer who wants to go free-lance, the simplest thing to do for me is to opt for the status of artist-author and to invoice your creations and your copyrights within the framework of the House of artists.
… Or with an illustrator agent
With an assertive style, a well-made website, a well-organized planning, a framed status and consistent prices, the first orders should arrive quickly! I personally opted to manage on my own my schedule and my relationships with my clients in France. After 20 years of practice, I have gained a lot of experience in understanding the demands of advertising concepts or artistic direction in the press, publishing or books. Up till now I've never felt the need to collaborate with an illustrator agent in Paris or elsewhere in France, for the moment at least (I'm not closed to the idea!). However, I do understand the interest of having an agent for freelance artists who may not be comfortable with schedules or relationships with agencies or clients. For me it's different with regards to other countries, such as the United States, Japan, or even Germany. The cultural and linguistic differences make it seem interesting or necessary to collaborate with illustrators in these countries. It's been almost 4 years since I started to collaborate with various agents in the world, notably with Michaël Thiebault and his agency of New York Art Rep NYC.
To sum up, I encourage all those who would like to go for it! It is an adventure every day, but if I were to do it again … I would!