Dolce Vita on a scooter in Nantes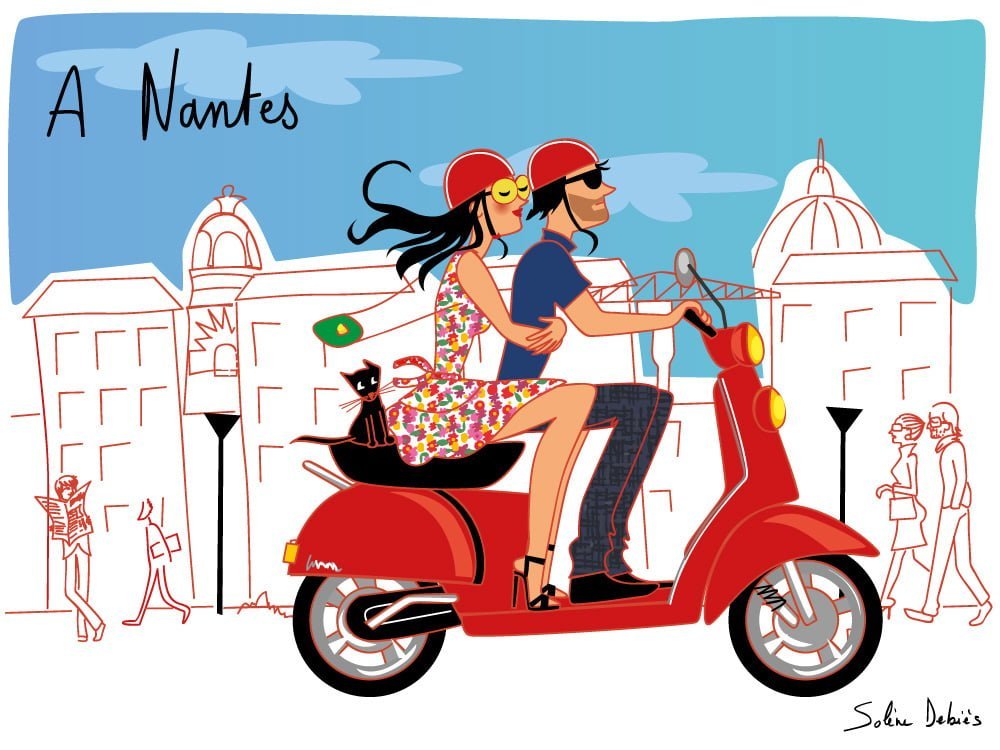 Love, drawings and the city
I spend several months of the year in Nantes and I wanted to create an illustration that depicts the time when we could talk about "Nantes the grey" is gone! Me, when I am in the city, I like to get about the city Vietnamese style, what I mean is on the back of my man's scooter. I like to smell the sea breeze that invades the banks of the Loire when the tide rises, take the ferry and grab a glass of wine Muscadet at the Civelle in Trentemoult, sometimes push on to Pornic when the weather is nice and go catch some rays on an Atlantic beach, and finally return in the evening to eat grilled chicken in the restaurant "les 2 morues", a secret menu at "Chants d'Avril" or in a small inn in Bouffay.
How do i figurate Nantes?
To symbolize the city, I could have designed the tower of Brittany, which proudly dominates the city by its height, a bit like when we sketch the shape of the Eiffel Tower in the background to symbolize Paris. But this tower, which vaguely resembles the little sister of the Montparnasse Tower, is not the most beautiful tower in the world to draw ... The figurative charm of the city is not in its Brittany tower. So I sketched in behind our Nantes inhabitants on their scooters, the Lieu Unique tower, which became a symbol of the local cultural life. I also drew a famous Titan crane (a huge yellow crane), reminiscent of the glorious past of the shipyards of the Island of Nantes. Finally I featured the dome of the Church of Notre-Dame-de-Bon-Port which enriches the Skyline of the city (yes!) from the Anne de Bretagne Bridge which crosses the Loire. I would have liked to have illustrated the Castle of the Dukes of Brittany, which is the last castle of the Loire before the Ocean (and which is really worth a visit for its exhibitions), but I didn't have anymore space (But come and visit it for a week-end, in spring, in summer with the Voyage à Nantes, or in the beginning of autumn it's great!)
Nantes: a setting for the Loire
Finally, it must be emphasized that all these monuments that come to caress our eyes really form a setting to the true jewel of the city, adored deity of inhabitants and the last wild river of Europe: the Loire!