A colorful campaign for the "Manche Libre" weekly magazine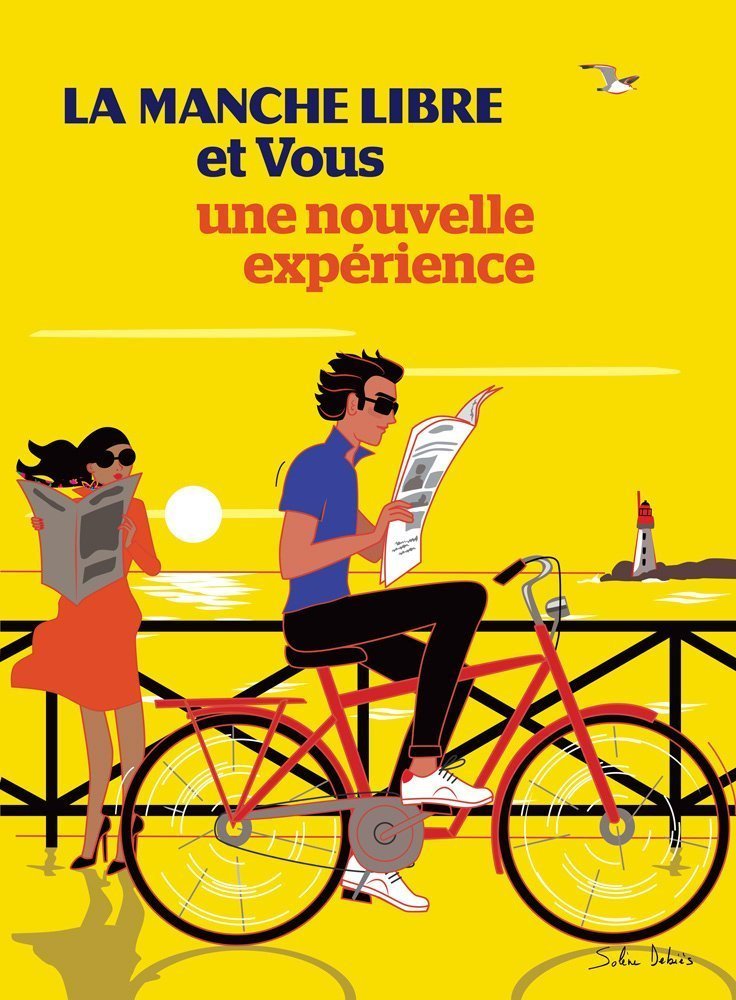 4 VISUALS FOR A NEW MODEL
I was contacted at the end of December by the Normand media group "La Manche Libre", which includes the first general weekly "La Manche Libre", "le Courrier Cauchois" and "Tendance Ouest". The group was preparing to launch their new model and they were looking for a graphic artist or an illustrator to display it in their advertising campaign.
The idea was to highlight a whole new reading experience for users, a more modern, simpler and more colorful experience!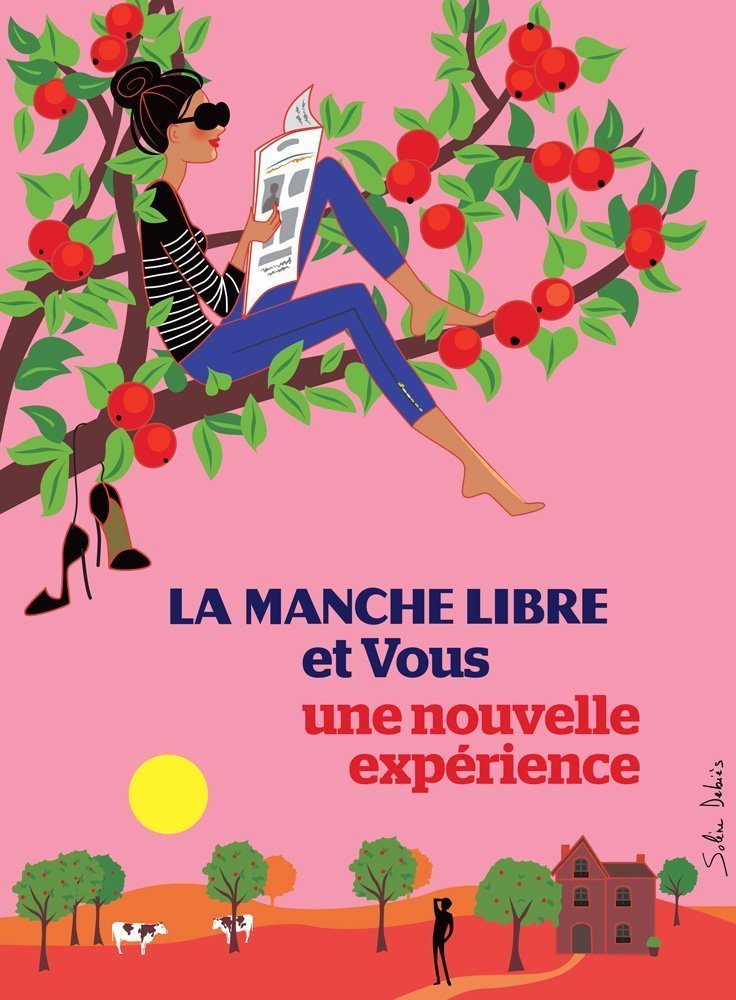 IS THE FIRST AUTONOMOUS BIKE NORMAN?
Our first athletic user takes advantage of a simple, clear and very readable model to devour his duck. What a dream experience to feed your brain with quality information, to fill your lungs with the crisp and pure air of the English Channel, to titillate your pupils from an exceptional point of view on Mont Saint Michel, everything by strengthening your thighs-abs-glutes by activating your pedal! And all without danger! Because if this artist's vision is purely prospective, Normandy is a land of innovation, and you have before you the first autonomous bike which avoids streetlights as well as gulls.
MORE CHIC THAN READING A DIGITAL TABLET: READING YOUR WEEKLY PAPER ON AN APPLE TREE
Gorging on information that does not concern us by tapping on an electronic thing that will end up in landfill on the other side of the world, passed a decade ago. But that's all over now.
Why shrink your world down to a square piece of plastic and electronic chips and have your thoughts dictated by an algorithm that feeds us with a flow of information unimportant to our minds? At the dawn of this second millennium, it is better to broaden one's mind by taking advantage of the space and the beauty of nature around us, by nourishing our minds with quality journalistic information.
And don't worry: there are enough apple trees for everyone.
WHEN CRUISING OR FISHING: THEY PREFER INFORMATION AT SEA
On port and starboard, what matters is choosing a course that will allow us to arrive safely. Information is essential to avoid hitting a rock but also to keep abreast of events on the continent. This image demonstrates to those who still have doubts, that in addition to avoiding battery problems, the new paper model of the Manche Libre has a surprising effect: women are starting to enjoy sailing so they can read their weekly on the foredeck!
YOU CAN BE INTELLECTUAL AND SPORTY AT THE SAME TIME
We wanted to oppose the body and the spirit. With the new layout, readers of press group titles will finally be able to reconcile the two. Some people are still running with a headset screwed to their ears, running the risk of not hearing a passing car or the passer by telling them their shoelace is undone.
With the new model, which is clear, legible, targeted, there's no need for earphones. Your ears regain their freedom to enjoy the surrounding soundscape. The reader can easily jog while reading their newspaper. No more filter between the user and their information. A reader, a newspaper. A new experience!