Book cover art illustrator: "Queen of likes"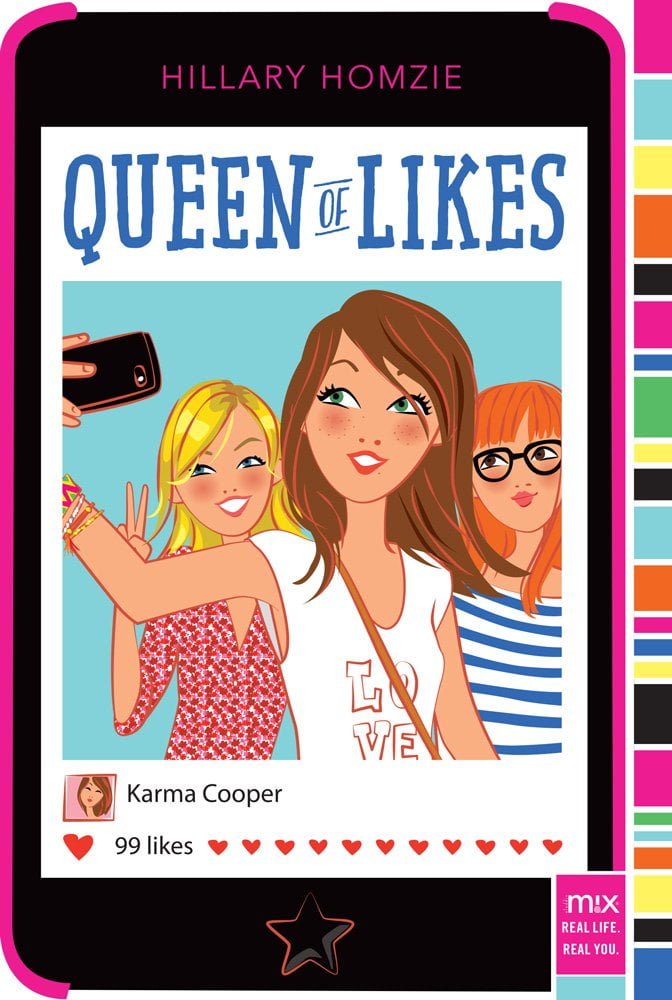 Cover design for a children's book for Simon & Schuster
I just designed this cover for the children's book "Queens of Likes" published by Simon & Schuster in the USA.
It's the story of an American teenager, Karma Cooper, who becomes a real star in her school thanks to her frenetic activity on social networks, especially thanks to her photo and selfies posts. With the publisher and my US illustrator agent Michael Thibeault from art rep NYK, after testing some ideas with sketches, we tried to represent the heroine of this youth novel as seen through the eyes of social networks. So I drew Karma with 2 of her friends in photography with a framing and a selfie angle. The cover illustration worked well as such, but one element was missing that was both graphic and meaningful to establish the theme of the book, namely the almost bionic link between Karma and her mobile phone.
When the illustrator is racking her brain
After trying to represent the phone in different ways, one thing became obvious to me: the cover of the book "Queens of Likes" itself was going to feature the mobile phone of the heroine of our story! I quickly made a rough sketch with a big line of felt pen around the pencil: it worked perfectly! All I had to do was add a few smartphone buttons, and polish up a layout reminiscent of the posts you see on social networks. The little hearts symbolizing the likes that our heroine had become addicted to came to perfect the coherence of the whole. We had before our eyes a cover that was at once graphic, readable and meaningful!
It's a graphic design project that I had a lot of fun doing. It's always very interesting to collaborate with an artistic direction involved on the publisher's side, as well as the advice and wise and involved eyes of my illustrator agent Michaël.
Do you like the result?