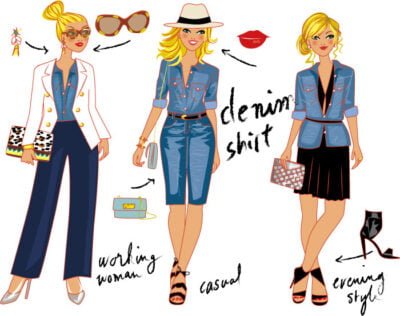 Style Illustrator and Designer
It's been over 4 years since I've been working as an illustrator with Cristina Cordula and Link prod to create illustrations for the fashion show "Magnifique By Cristina", broadcasted on Teva channel.

Fashion tips for women
I design the models that will represent the different types of women, and I do their "makeover" for them by following the advice given by Cristina !
8, V, or A shapes and the secrets to get the look are no longer secrets to me !
And beauty trends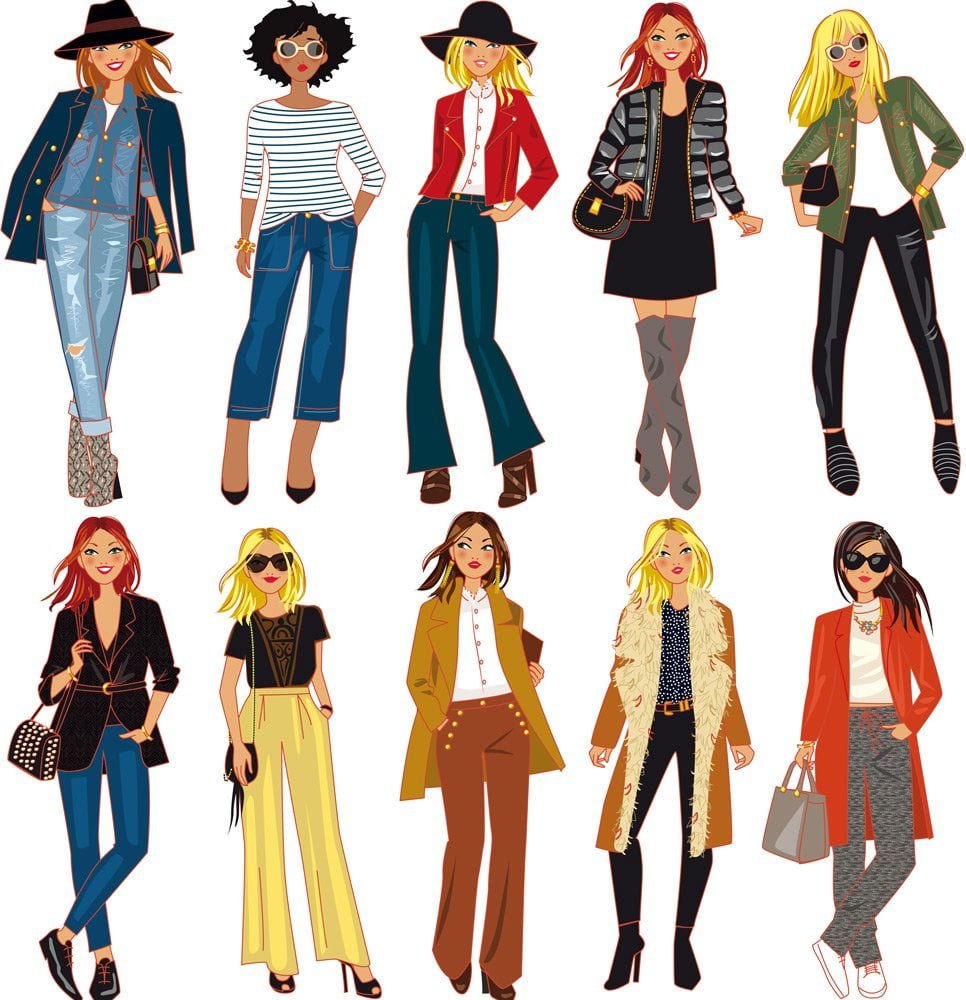 You will find here some of my fashion illustrations, I also invite you to follow the famous TV show every Sunday at 10:30 on Téva !
Fashion illustrator blog 2016
The third season of the fashion show "Magnifique by Cristina", presented by the stylist Cristina Cordula, for which I am an fashion illustrator, ended last June, so I said to myself that this is an opportunity to look back on some of my illustrations I did for the show.
Characters and Looks designs
I have already shared two lots of fashion looks, much of the silhouettes that were created for this show on Teva has not been shown here.
In fact, I design fashion looks before each issue that illustrate all the advice given by the designer based on different body shapes, situations, trends etc.
Here are 7 lots of 5 fashion illustrations, each with a "yes" or "no" noted next to them.
Let's have a look at why some of these fashion looks are a "NO".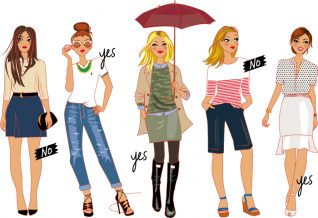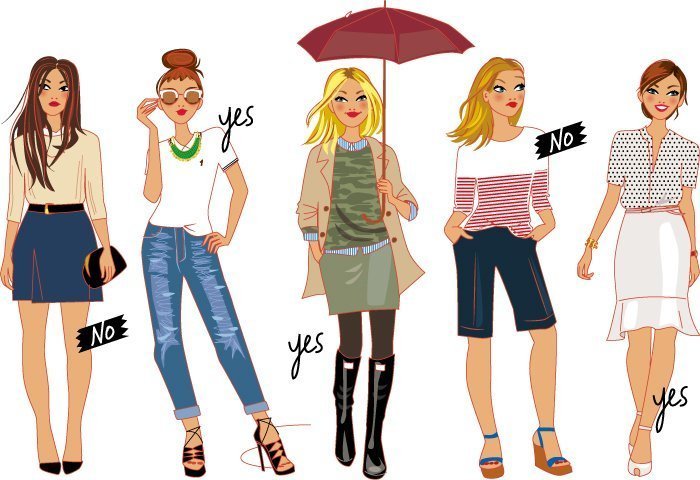 1st Figure: The skirt is too short for a professional meeting.
4th Figure: The bermuda is not flattering on legs with thick calves.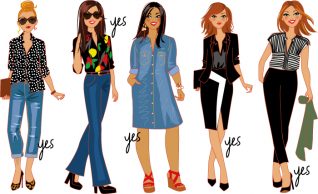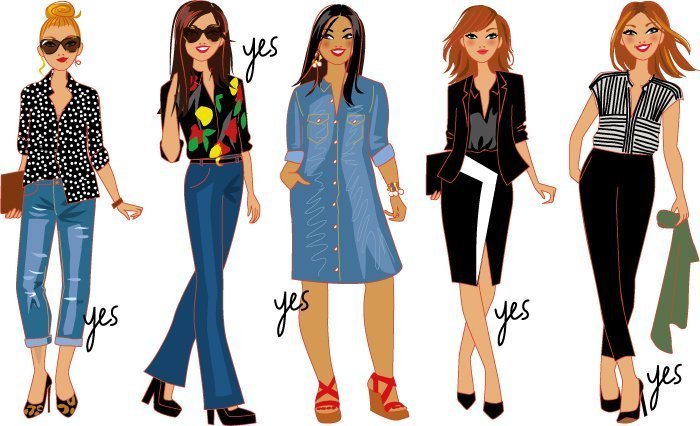 In this lot of photos all the looks are a « YES » Don't be scared to give them a go !
2nd Figure: too low-cut dress for a job interview.
4th Figure: Forget ballet flats if you are too small.
2nd Figure: With a V shaped body it is better to avoid loose clothes on top.
5th Figure: To be chic in the rain forget suede boots, they will get damaged! (And you may fall over with such high heels)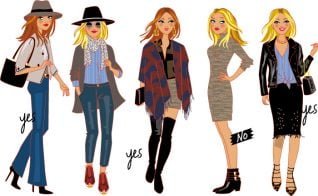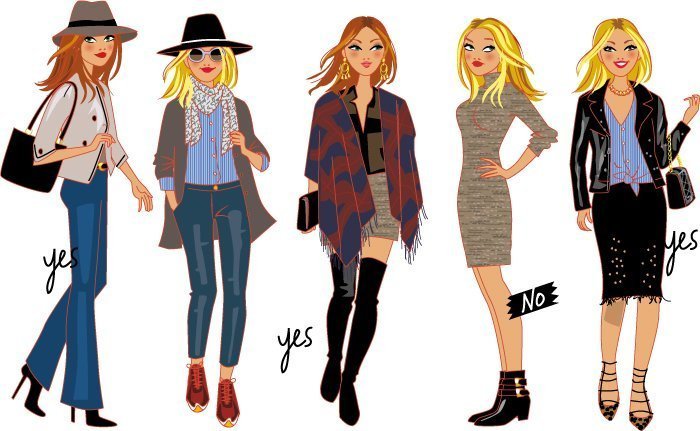 4th Figure: If you have large breasts, forget knit dresses too close to the body.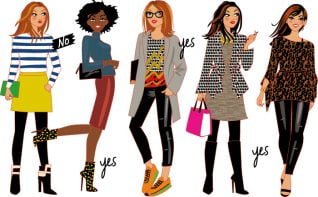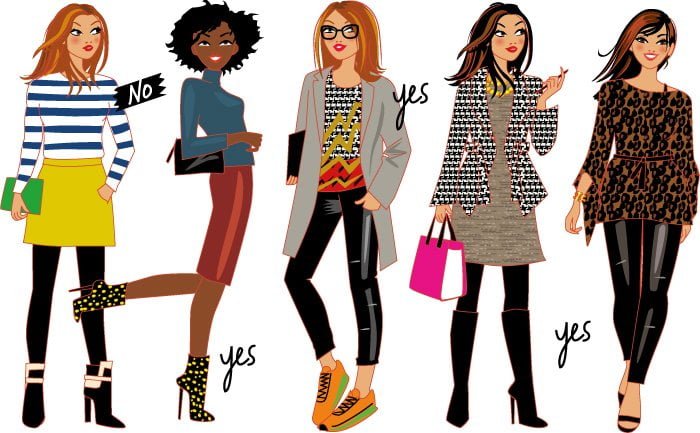 1st Figure: horizontal stripes should be avoided when we have round arms.
4th Figure: colorful outfits to go skiing, that's fine, but not too much!
As you have seen, the idea, for me, as an illustrator, is to make people understand why the drawings are a counterexample.
Until the next season in September, you can find all the fashion advice of Christina Cordula and / or review excerpts from the show in the TV channel TEVA 's website.