Illustration for Ouiglam: hairstyle, beauty, well-being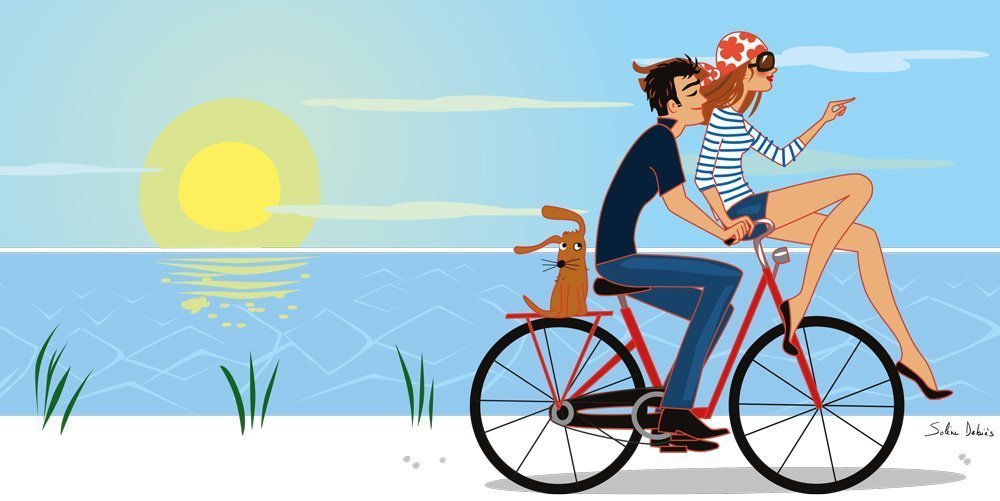 Be beautiful and zen in just a few clicks!
I recently drew beauty illustrations for the brand "Ouiglam", which is an online booking platform for beauty services : You can book your hairdresser, make an appointment for your hands or feet, a relaxing massage... Logon to Ouiglam and, it's done!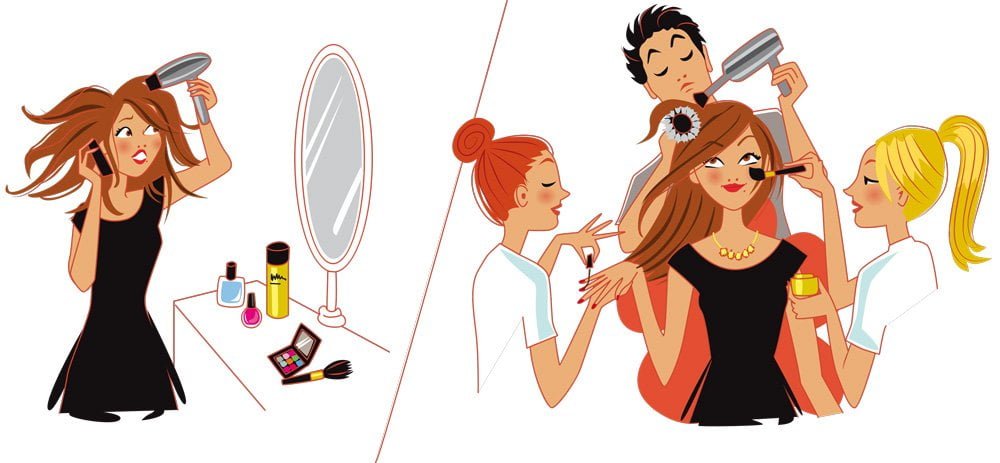 Well-being as an illustration
An impromptu appointment ? An evening where you need to be dressed up to the nines ? Rather than stressing in your bathroom, why not use Ouiglam? As a designer, this is the message I had to show through these pictures!
I illustrate the idea that in just a few clicks you can be taken care of by beauty experts: hairdressers, manicure artists, makeup artists ... who will know how to put you in a calm state of mind. As always I started off by using pencils which after a few exchanges with the customer, have almost all been validated. A little stroke of a rubber here and there, raise a wisp of hair, now we can switch to the coloring stage!
I then redraw the pencilled sketches into a vector illustration by using the drawing software Illustrator. Then I test different colours or different patterns until I'm satisfied with the outcome. One of the great interests of using the vector picture is that it is then relatively simple to alter both the drawing and the set of colours!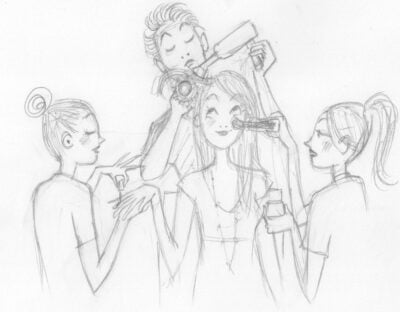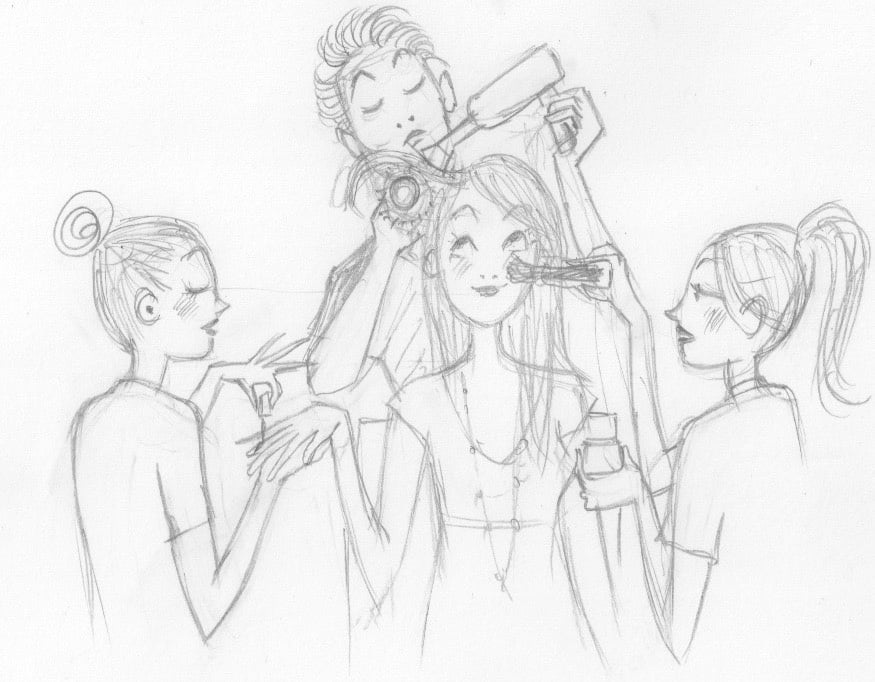 Sketches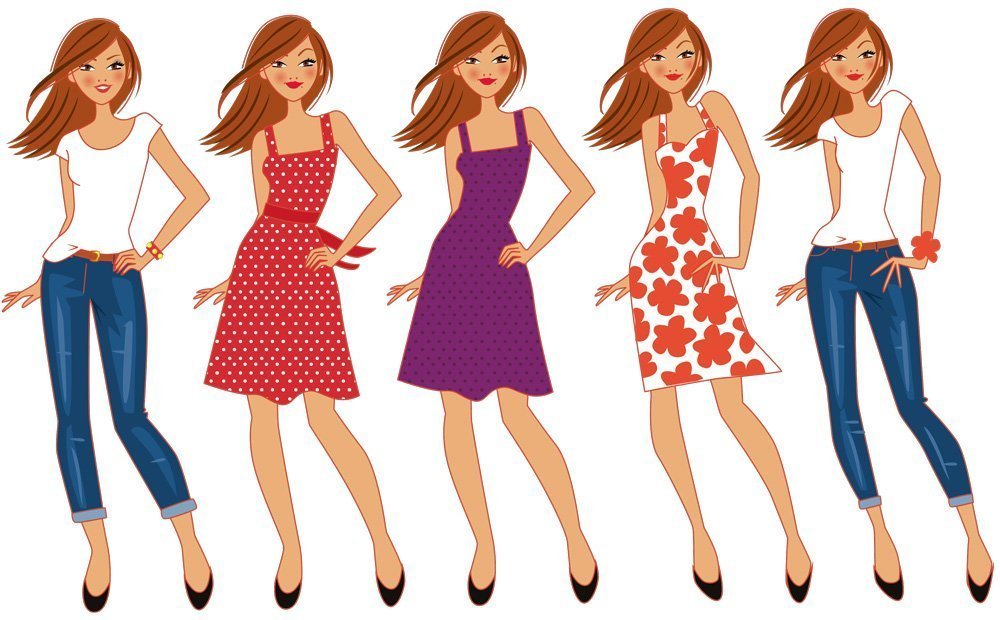 Our heroine had to be pretty (obviously!) But approachable, a girl next door, or a good girlfriend; the idea of a dress was too much so we opted for a pair of jeans, a white tee-shirt, with light make-up and a reminder of the flower on her wrist.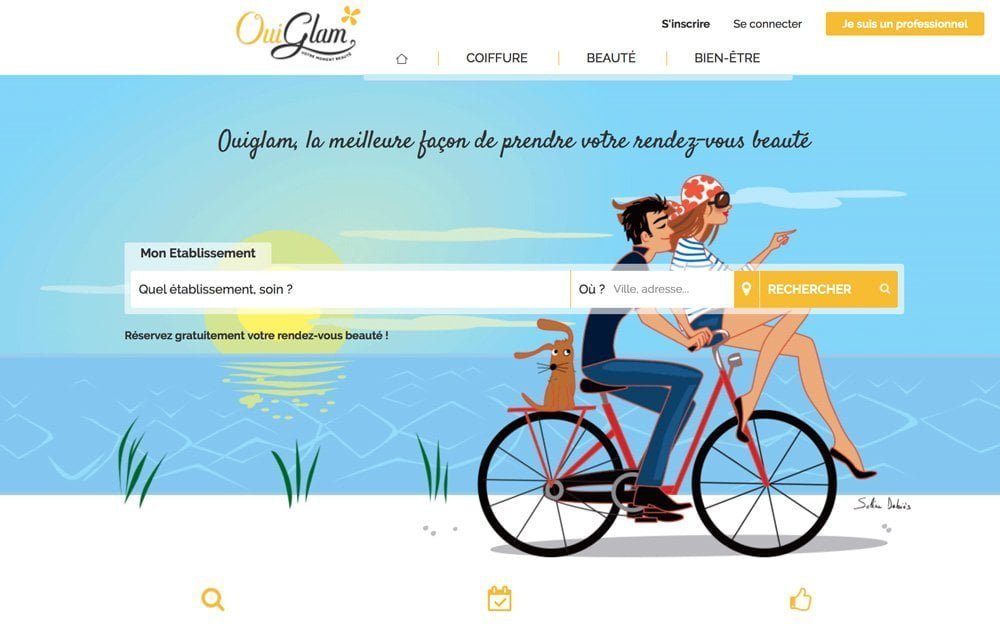 For the hosting illustration, I drew a seaside view, with a man on a bike and our heroine on the handlebars. Does this not make you want to follow them on their small quiet bicycle ride by the sea??? In the meantime, I invite you to visit Ouiglam website!