Elegance and feminine charm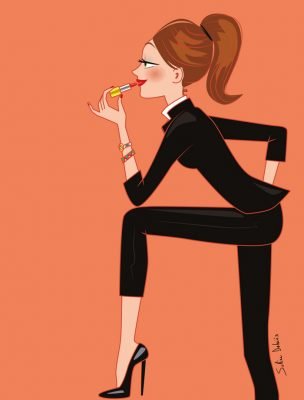 Beauty is anything that causes pleasure when it is perceived, with our eyes, our ears, our fingers or our palate. Splendour can be found in a landscape, an object, a piece of writing, a piece of music, a painting, a smile, wine, a perfume … Putting beauty into a drawing consists in delivering with pencils or a graphic palette this subtle little vibration that creates emotion in the image.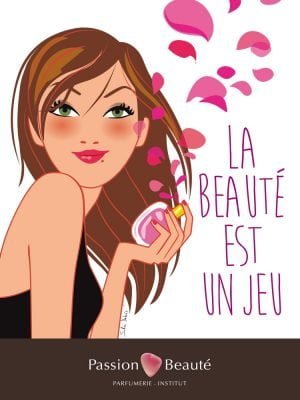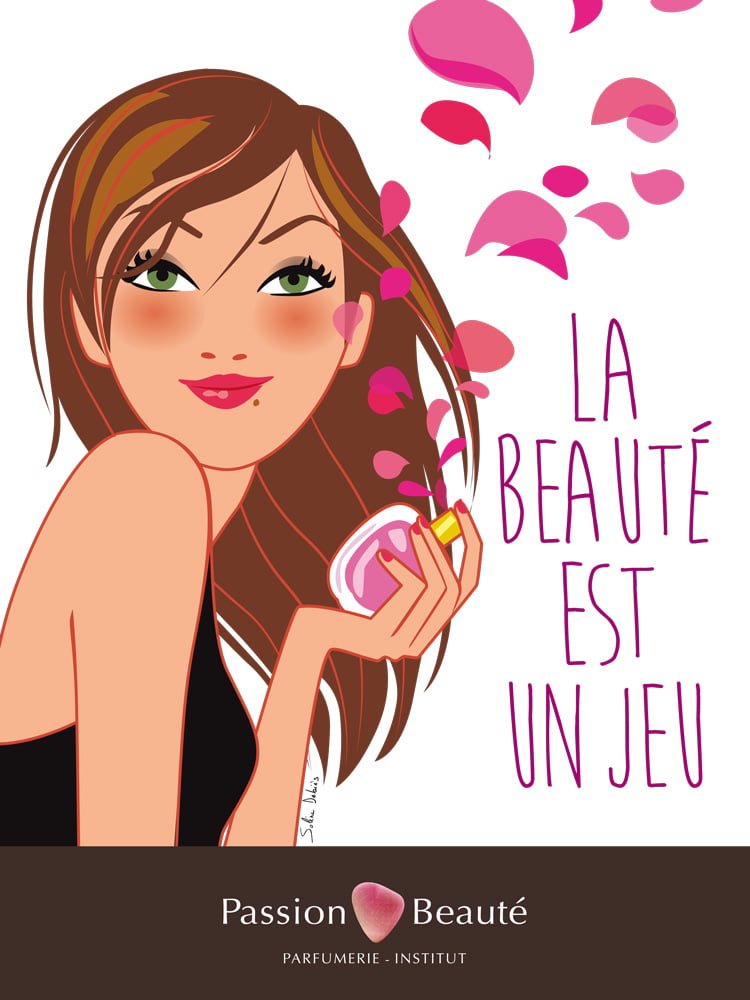 WOMAN SKETCHES AND DRAWINGS
As an illustrator I am often asked to evoke the charm of women or men, especially for articles in women's magazines.
I then create attractive, adventurous and defiant women. Their makeup is perfect and their nails are done. They gracefully wear delicate jewelry.
Everything is possible : The model can be large or small, plump, thin, tattooed, bearded, blond, brown, cool, evil, seductive (The opposite advertising poster for Passion Beauté). Sometimes my drawing will go into more depth of subtle and colourful makeup, from nails to elegant graphics (eg Nail Art picture made for Katy Perry, created for Nail Pro magazine), or designer jewellery.
When wanting to express what we feel with our tastebuds, or present our tableware, once again the lines and colours from illustrations can evoke the smell and flavours of a dish . You can find this type of illustration in cookbooks or in gastronomy. You can see on the following link a few examples of drawings from the book "The Food Strikes of Farida, Confidences of a Foodista in Paris" of the journalist, columnist and animator Farida.
WOMEN IN ART
Then I draw their decor, either a fabulous setting or a more realistic one based on the brief: It can be in a bathtub in the middle of an ice floe, in a helicopter in the Amazon forest, or in Paris under a snowy Eiffel Tower, the character is tanned in the middle of January !
EVERYTHING IN COLOUR !
For those who know how to look, they will see that beauty is everywhere ! I try to get inspired and find beautiful things wherever I go throughout my day to day life. My travels allow me to appreciate and discover beautiful natural landscapes but also men and women who are beautiful in different ways to those shown in magazines. They inspire me. Then you always have Parisian streets, the wild beauty of the Loire river or the Atlantic beaches on a nice Autumns day !
Health, well-being and beauty illustrator :
Nail Pro Magazine, Lancôme, Caron, Phyto, Yves Rocher, Passion Beauté, Parisian boudoir, Givenchy, Marie-France Publisher, ELLE magazine, Laboratoires Ducray …
Illustrator blog / Brand Content / 11/28 /2016
An illustrator, a woman and Paris during winter
Ictyane was looking for a freelance illustrator to create a picture designed for a pencil case. After discussion with the brand, we agreed on the general atmosphere (Paris in winter) and the style of drawing desired (the decor would be drawn in line, a character in colour). Regarding the main character, we chose a Parisian woman (we can see the Eiffel Tower in the background), dressed in a chic but comfortable outfit, for a harsh but pleasant winter (thanks to Ictyane creams!). In the background we can see the Eiffel Tower with a black line with a single glance, then beautiful buildings with red lines, in which stand out the black silhouettes of passers-by (some are on bike). In the foreground, our pretty woman walks lightly and casually, wearing a big black felt hat, and covered up with a warm woollen coat, a short skirt and opaque tights. A pretty coloured and flowery scarf gives a touch of colour and energy to her rather sober and elegant attire. Finally, by looking better at the image, we see a bundle of documents or books under her arm: she is either a "working woman" or a lover of literature, but our female character is also a strong headed woman!
The illustration is reproduced on a pencil case that is given to customers after the purchase of a cream. The choice of the style of drawings and colours has also been reflected in relation to the printing and rendering constraints on this type of support. I think the result is rather chic (the quality of the pencil case also plays a big part), in any case it pleases the customers! What do you think?
You can get it in all the pharmacies that sell Ictyane creams.
Blog Women's day / 04/08/2016

For International Women's Day, I drew this image: do you know which countries in the world these women are from ? It is obviously very approximate because fortunately for every country in the world there is not one style that corresponds to a woman or a man! I found various sketches or pencilled drawings made during a trip, and I have gathered them in this drawing. I'll give you some clues: they all come from countries where I have travelled during the past few years, and that you can find them in the travel section of my illustration blog.
5 beautiful women in one illustration
Alright I'll give you the answer: The first woman is from Costa Rica, the south Caribbean area, the second woman is from the East of Panama and the one in the middle, yes you guessed right, is Indian! The next one is Mexican, and finally the woman on the far right in the picture is Vietnamese 😉 But you can try the other combinations: that also works! They could all have been French, Parisian or from Nantes, try and picture it: it still works perfectly. As they say, you should never judge a book by it's cover !