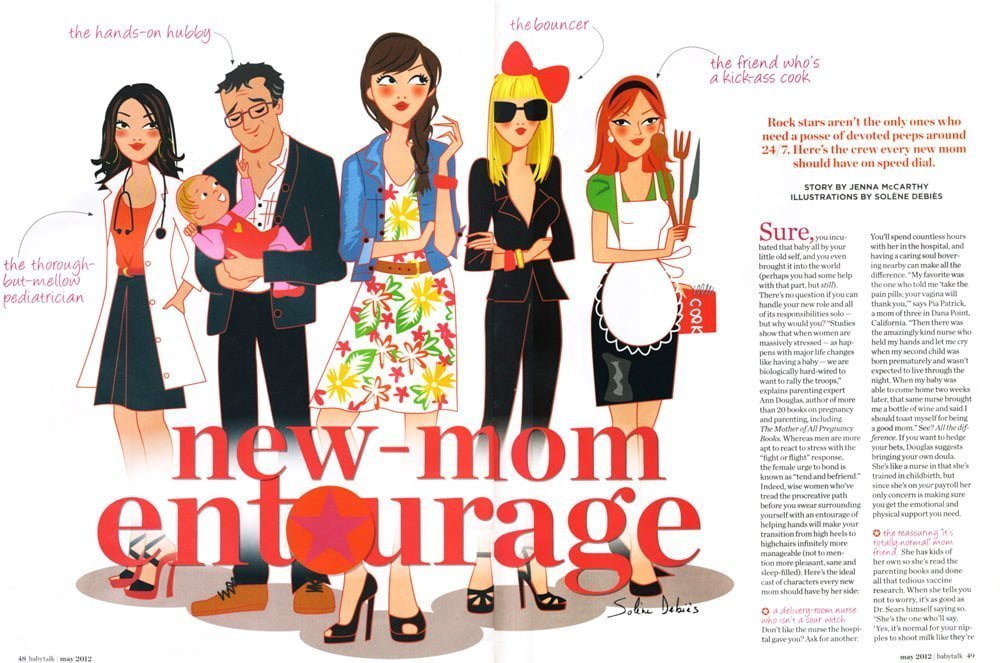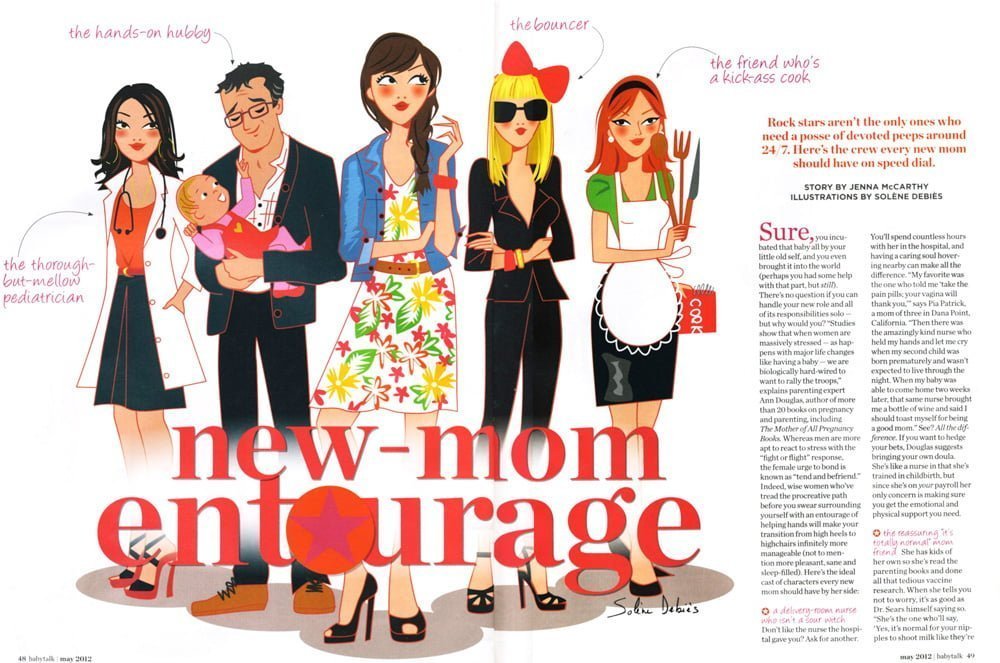 MAGAZINE AND PRESS
I was an illustrator for several magazines and media groups in France, Asia and in the USA, often in the fields of fashion and beauty (ELLE, Marie Claire group, Gael in Belgium, the Figaro, Femme Actuelle, Nail Pro in the USA), but also in the domain of parenting (parenting USA), peoples (GALA).and lifestyle illustration (Paris City Magazine Cerise)
Unlike editing, the "ephemeral" side to magazines allows the drawings to be done with great spontaneity. I don't often have a lot of time but I have great freedom, and that's what I love.
I particularly had a lot of fun working for 7 years for the magazine "Elle India." The artistic leadership team often left me complete carte blanche, which allowed me to explore many new graphical territories, new shapes, new silhouettes and colours.
Aside from the fashion projects, I drew for this magazine images of the horoscopes (astro love and horoscope of the year), subjects of society and beauty, and I even created the pictures for the guide books of the different big Indian cities, the Hip City Guide of India!
I met a great creative team, both in the creation area as well as in the drafting area and till this day I have remained friends with several members (which gives me good opportunities to travel to India!).
DRAWINGS, IDEAS AND COLOURS !
A brief or an article, 2 or 3 ideas, a first sketch …
Here we go !
Once the pencilled illustration validated, I set the colour, a little yellow, a bit of green and a lovely deep red … Hmmmm …
Here resides the pleasure and joy of an artist !
EDITORIAL ILLOS :
S Magazine (UK), ELLE magazine (India), Parenting (USA), Babytalk (USA), Gael (Belgium), Nail Pro Magazine (USA), Le Figaro, Marie-Claire Group, Biba magazine, GALA, Bayard Press, "Questions de Femmes" DS, Avantages, Version Femina, Marie-France, Cerise, Femme Actuelle, Jeune et Jolie, Mondadori Group.
Blog Magazine / Paris / Press / 11/28/2016
Illustrate Paris and Saint Germain des Prés
It has almost been two years since the parisian magazine "Cerise" asked me to create its cover.
"Cerise" is a "city magazine" whose roots draw its strength and inspiration from the intellectual and creative effervescence of Saint Germain des Prés in Paris: culture, History, it places to be, the coolest places on the left riverside… The editor Carole Fernandez distils a myriad of tips and news things that the Parisians, but also visitors are invited to discover.
For the launch of the magazine, Carole was looking for a French freelance designer to design the covers. She had discovered my drawings on my blog, and after having talked about it numerous times, I quickly put my pencils to work in order to show her my first sketches.
Carole always has a very precise idea of what she wants. The first cover figurates the Parisian newspaper salesman Ali doing his paper round and known as being a friend of famous people. The launch of a magazine is always a big leap into the unknown ! And it was a success ! It has now been more than two years that I have been designing the covers for Cerise, that you can find on my artist blog.
Parisian atmosphere at the end of the day
In this issue, Carole asked me to create a unique atmosphere in this illustration ; in the late afternoon, when the sun goes down and the swallows begin to sing in the neighbourhood near "La Palette" area, which becomes the heart of a ballet that is played between the district art galleries and outdoor cafés.
Looks of men and women, lots of style, intrigues of life … you know !
Illustrator blog Magazine / Nail Pro / Nail Art / Beauty / Press / 05/20/2015
A beauty drawing for Nail Pro magazine
I recently created images for the magazine "Nailpro Magazine", specialized in nail art.
I worked closely with the artistic director of this magazine Patty Quon-Sandberg and my New York agent Michael Thibeault.
Prior to imagining the illustrations I had the task of selecting three out of twelve anecdotes reported by manicurists.
They were all very very funny and only selecting 3 wasn't so easy !
The first was nail art done for Katy Perry at the Super Bowl and that she published on Instagram https://instagram.com/p/yV4995P-dN/.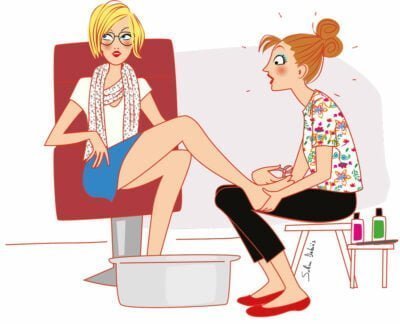 The second picture shows a manicurist who while traveling in Thailand wanted to test the "fish pedicure" but really hated it!
And he third shows a young teacher, very classy, who surely would have loved to replay the famous scene of Sharon Stone in Basic Instinct. Guess why;)
Graphic Illos / Horoscope / ELLE India / 05/20/2015
I love to draw horoscopes ! It's something that has been drawn many times, that's why I can just let my inspiration do the drawing, leaving intellectual or narrative consideration aside.
I've done quite a few, particularly for the magazine ELLE India. So when the artistic director of BIBA (the magazine) called me and asked me if I wanted to draw the "love horoscope" for the beginning of the year, I happily said yes!
How do i draw a horoscope ? 
I start off by doing a few sketches, without thinking too much and just draw what comes to mind ; women, love, seduction often with a man in the background !
Then I'll go off and do something else and return to my sketches a few days later. I'd have another look at them, some of them will interest me, and others not so much … Some horoscope signs are more detailed than others.
A few days later and having finished all of my sketches, I then send them off to the artistic director at BIBA. Once they have been validated, I start to add color : I choose a limited palette of colors in order to have one single unit and two to three patterns that I can use as I please.
I redraw all of the drawings on "Illustrator" et I spontaneously color them in: plain, with patterns, stripes, dots.. depending on the sign and how inspired I am !
If you'd like to find out more, click on the link of the horoscope on bibamagazine.fr.
French illustrator / Magazines / 05/20/2015
An article about me and my illustrations in crea-magazine this month, here you'll find the traduction :
"Solène Debiès, illustrator for well-known magazines : She draws for ELLE India, the group MARIE-CLAIRE, publishing houses and TV
Do these characters bursting with color remind you of anything ?Yes, in your favourite women's magazine, in the horoscope section or even on the book cover of your favorite nighttime read.
Well, these drawings that illuminate the columns in the most well-known magazines in press are the fruit of this exceptional illustrator : Solène Debiès.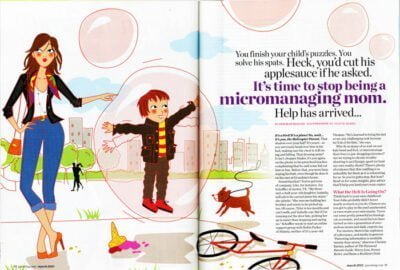 Some of them are thin and wear trendy or vintage outfits, others melt our hearts, and resemble us. Surrounded by their friends, they seem at ease in every situation, like trendy icons, or role models.
How do you come up with the characters that you draw ?
Solène : They are not caricatures but mostly illustrations that reflect the content of women's magazines. They seduce and are attracting to the eye. They are like testaments of actual life. We find them in fashion, beauty, lifestyle rubrics, current trends, societal problems, and everything that deals with love, friendship, travels…
Where do you get your inspiration ?
In daily life, the people that i encounter in the street, on the terrace of a café… My travels are also a source of inspiration, particularly Asia,  a region that i love for its ambiance, colours and magic.
Can you describe to us how you've come this far ?
I have always loved to draw and i am naturally drawn to applied arts. After my first experience in an advertising company, i quickly became a freelance illustrator. My sketchbook drew the attention of magazine publishers and it has been my passion and work for ten years now.
Where do we find your illustrations ?
Solène : in fashion magazines like ELLE India, the group Marie-Claire, Nail Pro, or widely throughout GALA, LE FIGARO… I also work for large international press groups, like Parenting group, Prisma Press.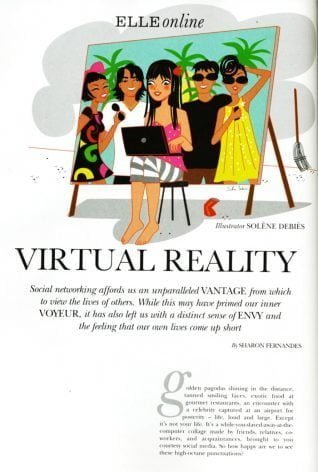 Some editing houses also use my drawings for their book covers, notably POCKET or HACHETTE. You might recognize some when
reading" Mes amis, mes amours mais encore ? " by Agathe Hochberg and in the last book by Christine Féret-Fleury "Coeur de Glace" in the HACHETTE Editions. I also create scenery and draw the trends of the moment for a television show "Magnifique by Cristina" presented by Cristina Cordula, in which she gives fashion advice.
This is a dream for many other graphic designers, what advice would you give them ?
Solène : To be very passionate and perseverant, because it can take time. Don't try to do everything but keep true to your personality and drawing style."