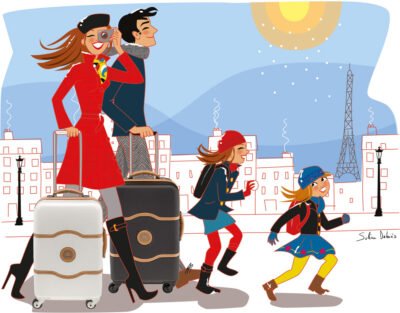 Design and advertising illustrations
Theoretically, visual art has no limits.
Everything you can imagine can be drawn by the illustrator or the poster artists: it could be a dream model, smart and smiling, surrounded by her 8 twin sisters, a paradisiac island without mosquitoes or a castle in Spain without having to leave your office, or Paris under the snow with the river Seine with warm and crystalline waters lined with coconut palms …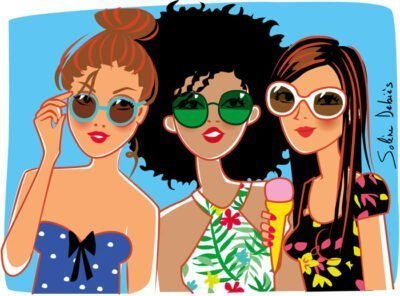 A DRAWING AND A UNIVERSE
Advertising agencies seek to convey their clients' messages with strong characters or graphic universes: they then seek an illustrator – or a poster designer – to enrich the brand's universe with original pictures.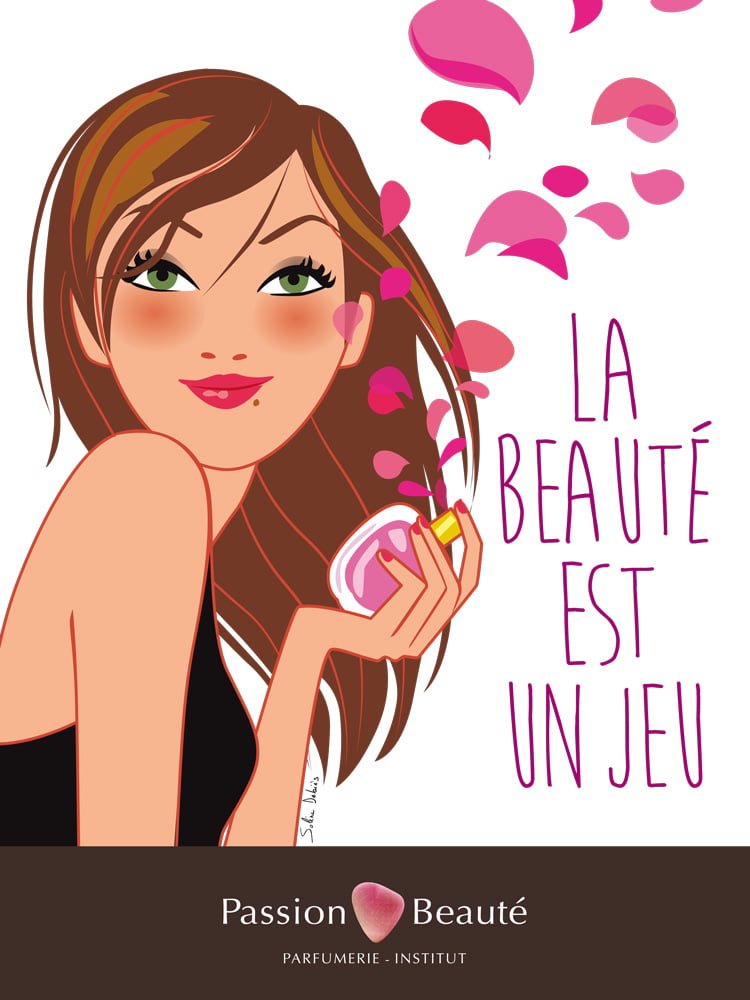 IDEAS
These projects begin with exchanges during a brief. We must awaken the ideas! Whether I am in my studio in Nantes, Paris or on a journey, I often find inspiration in memories of scenes from the past, characters who have moved me on the street, on the café terrace, or women I met during my travels.
Whether it is fashion illustrations, posters, products (for example packaging), I start by drawing them in my head …
Then come the pencilled drawings, the customer's approval, and finally setting the colours.
These are often fairly long projects, but usually exciting because the stakes can be significant.
COMMERCIAL ILLOS FOR BRANDS, COMPANIES AND THE ADVERTISING MARKET:
Van Cleef & Arpels, Garnier L'Oréal, Givenchy, Tupperware, Nestlé, Delsey, Essilor, INNO, Nice Veolia, Nilfisk, Oxibis, PayPal, Phyto, house Salon maison & Objet, health insurance, PMU, Quo Vadis, Exacompta, Sida Info Service, Sigma, SNCF, French Society of Dermatology, the Parisian Boudoir, Teva, Champion, Laboratoires Ducray, Yves Rocher, Lancôme.
Brand content / Characters / Tupperware / 12/11/2015
You've heard of Tupperware ? you know, the famous boxes and kitchen accessories that marked your youth ?
Well Tupperware asked me to create a series of women illustrations for them. I had the pleasure of adding a little of my "French Touch" into the universe of this iconic American brand.
Women and characters creations for brand content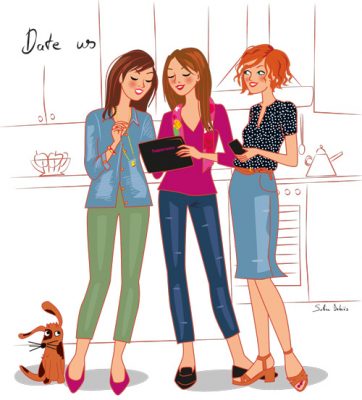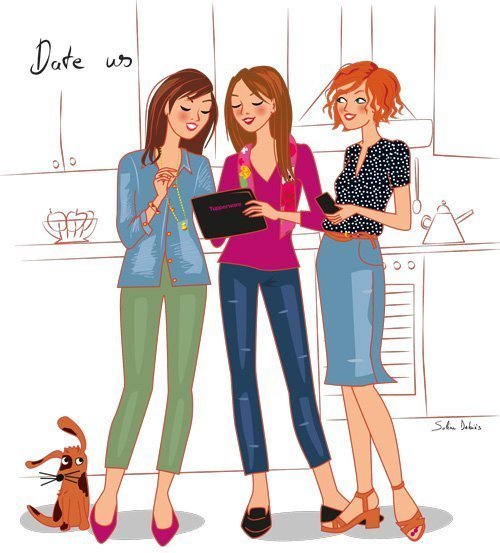 Here are a serie of drawings depicting the principle of the famous meetings that made the brand so notorious.
In the first picture, a woman, the "heroine" meets a Tupperware host in a friendly and open space such as a café.
In the second we can see her speaking with her friends in her kitchen. All three of them are relaxed, and are choosing their products on an iPad.
And in the last image … we can see her leaving with her Tupperware shopping, of course !
They're nice women. They're smiling, pretty but not overly dressed. I put them all in heels at first, but no, they are rather casual, friendly.
I enjoyed working on this project, which was a collaboration between 3 people : the client, very friendly and very professional, Michael, my illustrator agent for the US, a great guy, and myself of course as the designer !
Brand content / Comics / Nestlé / Digital / App / 12/11/2015
Cartoonist for brand content
I'm making the most of this heat wave to talk to you about a pretty chilled project that I've been working on for several years now : comics.
And you'll quickly understand the relationship between the heat wave and this project !
Eve, a working mother
And as I said, I've been working on cartoon boards for a smartphone application published by the Nestlé group to sensitize mothers about keeping their entire family hydrated. All thanks to the tools available on this app.
In this application, you can follow Eve, a working mother, with every week a new story to discover about keeping hydrated. We find Eve with her children, her friend (s) … A real commitment is created around this pretty brown heroin.
This tool is not only fun but, for these comics, the scenarios I illustrate are always very thoughtful, funny and friendly.
How do i make comics ?
I will talk about the creative process of these boards:
I get the script of the story I have to illustrate beforehand. I then make a storyboard of the comics in pencil that I send to my client ; in this sketch you have the framing ; close-up, wide shot …, will highlight the action, for example here, you're meant to understand from the first box that Eve is in a park, it's midday and she's having lunch with a colleague or a friend.
We always end comics with advice and tips from Eve.
After possible changes, I start to color and there you have the "final product";) as a comic.
Only small downside of this application ? It is not available in France, unfortunately …
And remember, keep hydrated !