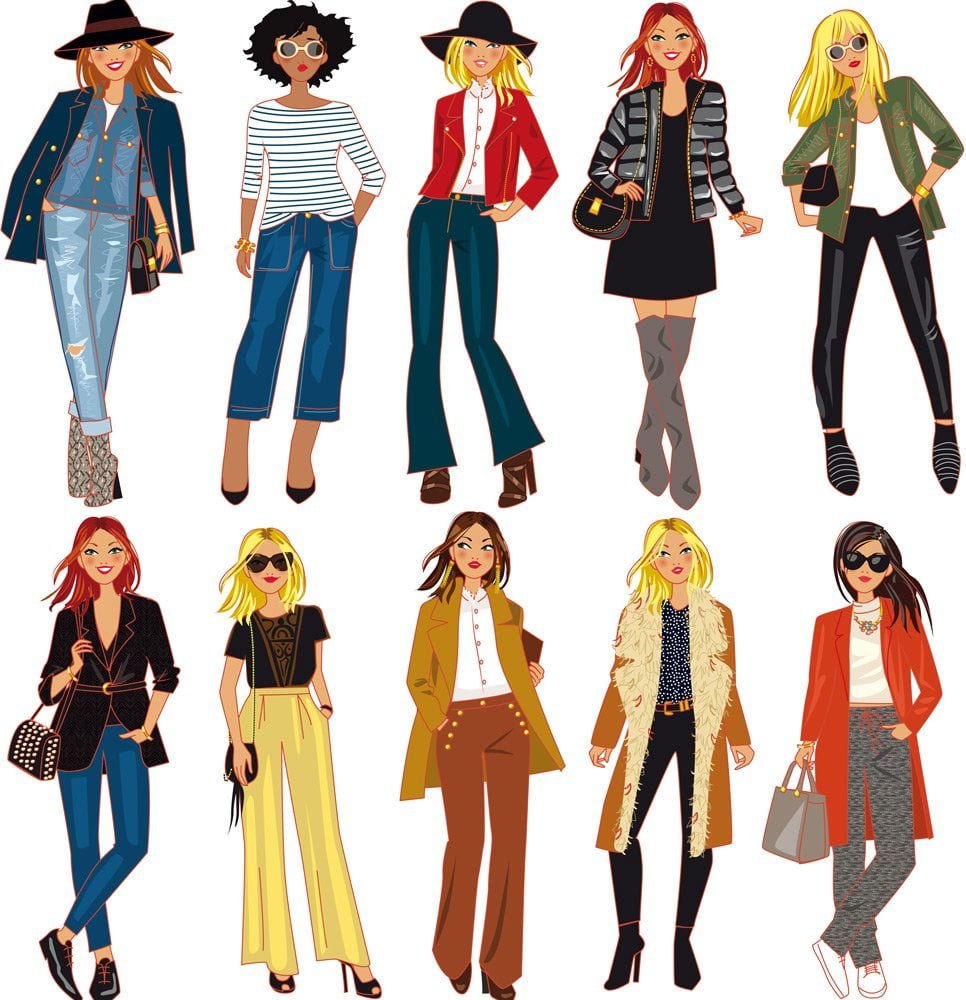 Fashion Illustrator
The interest of doing illustrations in the fields of fashion and style is that sources of inspiration are inexhaustible.
You can find inspiration in the street, in the shops, during haute couture or ready to wear catwalks, in magazines where you see models showing off the latest work of young creators or of big fashion designers, during expositions, in books. You can also find inspiration in Paris or Milan but also when travelling in Asia or in America. Women open my eyes upon the numerous possibilities of assembling materials, textiles, jewellery, accessories and colours.
There is only profusion of elegance or bad taste, colour or grayscale, an overflow of eccentricity or flat monotony, but in any case, in fashion, the diversity of species is not in danger. 😉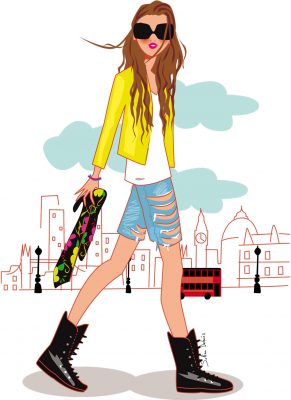 FASHION, GIRLY OR STREET STYLE ?
My job as a freelance illustrator has taught me everything there is to know about fashion and little things on how to carry out a good makeover.
Thanks to characters from the TV show presented by Cristina Cordula "Splendid by Cristina" – on the channel Téva-, I now know how to wear a short jacket when you have a small chest, or why we should avoid three quarter length trousers if we have thick ankles.
I have also discovered and designed all kinds of "exotic" styles during my travels and my collaborations, in particular with Elle magazine India or with Indian stylist Pernia Qureshi.
My projects in Asia have allowed me to affirm my taste for the colours in my fashion illustrations. And they have opened up for me a range of possibilities: To go motorcycling while wearing a sari with a surfboard under your arm, yes you can do it.
There lies the whole point of being an illustrator.
You can also find more images on my illustration blog.
STYLE and FASHION ILLUSTRATOR :
Clients and projects magazines, press, newspapers, edition, books, brands and communication, TV :
Nail Pro (USA), Biba (Paris), Elle, Le Figaro (Paris), Marie-Claire group (Paris), Parenting group USA (USA), "Be Stylish" by the indian stylist Pernia Qureshi, Inno Store (Belgium), Delsey, Lancôme, "Magnifique by Cristina" on TEVA TV, by the stylist Cristina Cordula, Anthony Peto (Dublin, Paris),
Exhibitions : Galeries Lafayette (Paris), "Across Poland with best fashion illustrators" / fashion week (Poland)
Illustrator blog / Fashion / Best fashion illustrators / Exhibition  / 03/05/2016
Exhibition of fashion illustrators
News and pictures of the fashion illustrations exhibition "Across Poland with best fashion illustration" in which I participate, with many fashion Illustrators such as : Stina Persson, Antonio Soares, Paula Sanz Caballero, Caroline Andrieu, Gary Fernandez …
I was REALLY happy to participate especially since I have always loved fashion illustration. Among the illustrators selected by Tomek Krolikiewicz, I very much like the creations of the fashion illustrator Stina Persson, the illustrator Antonio Soares and those of Decue Wu: colours, style, graphics and refreshing spontaneity! One regret: unfortunately I could not make it this summer to see the exhibition. The illustrations presented were often very different from the projects that I make for the stylist Cristina Cordula for part of her program "Magnifique by Cristina"! There are no televisual constraints in the work of an illustrator, which allows this spontaneity and creativity that one can find in most reproductions.
A fashion illustration : a woman on a terrace
Tomasz selected in my work the illustration "on the terrace" that I had carried out for the magazine ELLE India : the drawing of a very stylized and very colourful woman, moving through an urban environment evoked by a red line. It's a picture I like and you can find its original in my fashion illustration portfolio. I had already exhibited some of my illustrations on canvas at the Galleries Lafayette. The "large-format" and "canvas" approach of the illustrations, highlighted in an eye-friendly environment, is very different for me who is used to seeing my designs printed in magazines, in the press or on book covers … An experience that sometimes makes me want to delve into this terrain and think about a scenography, but also an atmosphere of sound and light! Well why not?
Illustrator blog Fashion / Fashion Tips / Fashion sketches / 12/18/2015
There are new looks, trends, as well as basic clothing. Here are some fashion illustrations of women that I draw for Cristina Cordula's TV show  : "Magnifique by Cristina" :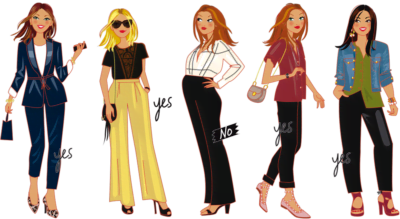 I still enjoy illustrating new trends, colours, materials of the moment ! But beware, beyond actual fashion, the rules for a successful look are sometimes subtle ! : based on your morphology, a particular item of clothing can be worn … or not, or at least differently. These are Cristina's tips that I explain with my illustrations in this program. Even with the most beautiful clothes in the world, some notions of morphology are needed to enhance every woman with its own specificity.
For example, would you know how to recognize in these illustrations of women the reasons what make Cristina say "No" to certain outfits ?
First plate of illustrations : the woman in the middle has a bit of a belly, in this case, Cristina says better not to tuck your shirt into your trousers: leave it out, just like in the drawing alongside.
Fashion illustrator gives fashion tips:

Second plate of illustrations : the woman on the left has an H and square body shape: in this case, putting a belt around her jacket makes her seem even larger, Cristina says better leave the jacket straight without a belt. The woman with a coordinated twinset (do not do) is wearing the pencil skirt the "Grandma" way (One of Cristina's expressions) : pearls, flesh coloured tights, the headband, the twin set, no! Get inspired from the silhouette just next to it: it is a modern way to wear the pencil skirt: the skirt is fitted, there is a lot of fabric, worn with a shirt with the sleeves rolled up, a bucket bag, original sandals and a loose bun is better, right ?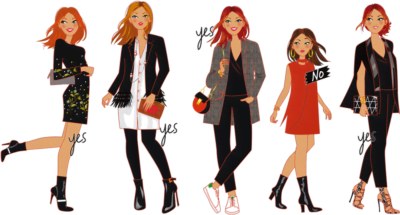 Third plate of illustrations : the woman with the red dress is small, in this case, better to avoid mid-calf boots : it cuts the leg and makes her seem smaller, better to wear open shoes.
Fourth plate of illustrations : the woman in the grey dress has strong calves ; in this case, it's the same, Cristina says it is better to avoid mid-calf boots : it cuts the legs, draws attention to them and makes them look a lot wider, better to wear open shoes or high boots that hide your calves.
5th plate of illustrations : when you are "petite", you shouldn't wear short pants, (Cristina says) it cut off your legs !
And you, what do you think about Cristina's advices ???
Illustrator blog Fashion / Fashion Tips / Fashion sketches / 12/18/2015
How to wear a denim shirt ?
Wear a white jacket with sunglasses and straight pants to go to the office, a denim skirt, a Panama hat and sandals for the weekend, or a little black dress, a silver clutch bag and evening shoes, for a "magnifique" look at any hour of the day.
How do you make a "fashion illustration"?
Cristina Cordula is up to date on the latest fashion trends. In this section, we speak about the "24 hours of a garment" on how to wear clothes all day in different circumstances. Today, it's the denim shirt. Cristina defines the looks and Paula, her assistant, sends me pictures of the clothes and accessories for the outfits.
For this section, it is the same young woman who wears different outfits, who changes hairstyles depending on the time of day.
In my fashion illustration, called I "dress" my girl with clothes and accessories that I design in order to highlight them, and I send the illustrations without backgrounds to Paula. They are then mounted on the show and presented by Cristina in the fashion TV show "Magnifique by Cristina" every Sunday on TEVA.
Click here to visit the show website "Magnifique by Cristina", or on Cristina Cordula.