The Parisian publishing house Calmann Lévy, who was looking for an illustrator for Roxane Dambre's new novel, contacted me about the cover illustration of "un karma presque parfait". Roxane Dambre is a 30 year old author who is from the outskirts of Paris, and has already received several awards: the readers' prize of the bookstore L'Antre-Monde, the "Prix Nouvelle Plume" 2015 for her first novel " Animae », and the 2017 grand prize for fantasy for her series Scorpi.
Book Cover: a pretty Parisian brunette and a charming psychopath
The story tells the adventures of a pretty Parisian brunette, a bit of a blunderer, caught in the meandering cross of professional life and love life. But why do some things only happen to her?
Illustrate the character of Siloé in the streets of Paris
The publishing house had mentioned the idea that the cover illustration should represent a scene in the book. I did a sketch with our heroine in the foreground pedalling in the streets of Paris, and in the background, more Parisians and of course the Eiffel Tower which allowed to set the scene unequivocally. This sketch immediately pleased both the publisher and the author Roxane Dambre!
I added some details from the story to my drawing: Siloé's hamster, who visits Paris by bicycle perched on the roof of his cage, and Siloé's box full of her cartoons which overflow with scribbled documents…
Coloring the drawing and mounting the cover
Once the drawing validated, I vectorized the drawing and coloured in my drawing by using the Illustrator software. To give a little springtime fragrance to the ensemble, I dressed our heroine with a little flower skirt, a blue jacket and a pair of green sunglasses. The publisher and the author worked on the graphic design with Elise Godmuse: they chose a yellow background and a pink typography to highlight the illustration and title of the book on the cover. What do you think? I like it! I (almost) have a nice memory of this book cover illustration project.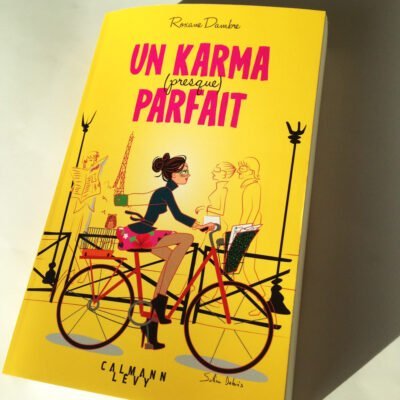 A focus of the Calmann-Levy publisher